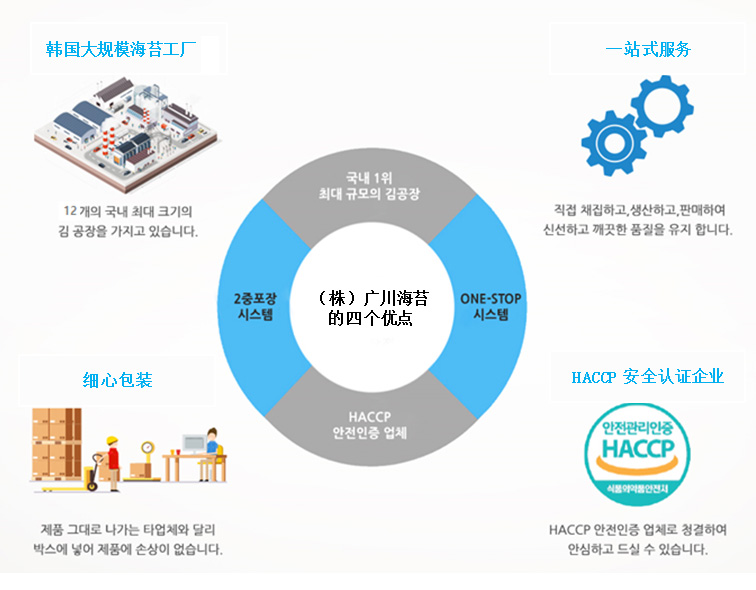 1. Korean seasoning seaweed production enterprises have large scale and new equipment
5 factories and 30 production lines (sushi seaweed, whole seaweed, 5g seaweed, 2G seaweed, fried seaweed, tonsil seaweed, triangle rice ball seaweed)

Can seaweed (daily output of more than 80000, other factories less than 50000, with special production line)

All production lines are equipped with automatic foreign body screening machine and metal detector

South Korea has the only fried seaweed special factory

The daily production capacity is about 50000 bags (2500 cases).

Only use raw materials produced from December to February (raw materials harvested in March may contain marine foreign matters)

2. Certification obtained

USDA organic food certification (including only 2 enterprises of the company), halal, HACCP, green aquatic products certification, fssc22000, ISO22000, etc

3. High retention rate of seaweed raw materials!

The company representatives who have inherited the tradition of 40 years directly select and purchase about 7 million bales per year (other companies are less than 1.5 million bales), and strictly select the raw materials with low price and excellent quality, which can meet the processing requirements of any kind of seaweed products.

4. South Korea's leading Guangchuan seaweed!

South Korea introduced fried seaweed equipment, automatic packaging machine, metal detector, color screening machine, X-ray machine

Use the highest grade raw materials and accessories

-From the end of December to the beginning of February, Yan Xuan produced high-grade raw materials in the South China Sea and the west sea of Korea,

Store at - 18 ℃ for use,

Guarantee the production quality of the whole year

-Independently use high-grade sesame and perilla seed to process edible oil,

Guarantee the fragrance and taste of seaweed.

Large and new facilities and sanitary equipment in Korea

-With Korean facilities, new (baking / packaging / sanitation) equipment and constant temperature and humidity system,

Produce in a suitable environment,

New sanitary equipment such as foreign body screening machine and metal detector will be used,

So as to eliminate food hazards and produce products that consumers can rest assured to eat.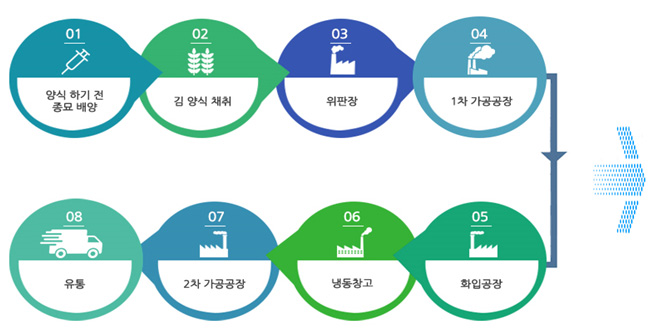 Using full infra / one stop → KC Guangchuan seaweed from ocean to primary processing plant, pre drying, freezing, secondary processing, logistics and distribution to provide you with fresh, delicious and clean products.